People come to Lourdes for water, to drink from the fountains, but also to take it back home with them.
This process began just after 25th February 1858, the day on which the Virgin Mary told Saint Bernadette where to dig to find the spring.
It is at this spring, which flows on the left side at the base of the Grotto, where Our Lady invites us to come "to drink and wash ourselves".
There are three places where we can respond to this invitation:
The Baths




Due to the current health situation, it is no longer possible to bathe completely, however members of the hospitality and volunteers are available to welcome you to the Baths and accompany you to perform the "Water Gesture". You can take part individually, as a couple, with family or friends.

The Fountains




You can take the personal step of drinking and washing your face with the Spring water that flows from the eighteen Fountains located next to the Grotto. The number eighteen represents the number of apparitions.

The Taps




Located at the bridge next to the arches, these taps have sufficient pressure to allow you to fill any containers that you might want to take back for yourself or your loved ones.
Although people have been healed after using the water from the Grotto, scientific analysis has found that it contains no specific properties, as Saint Bernadette said, "A single drop is enough! Faith is what it takes!" You can ask a priest to bless it for you.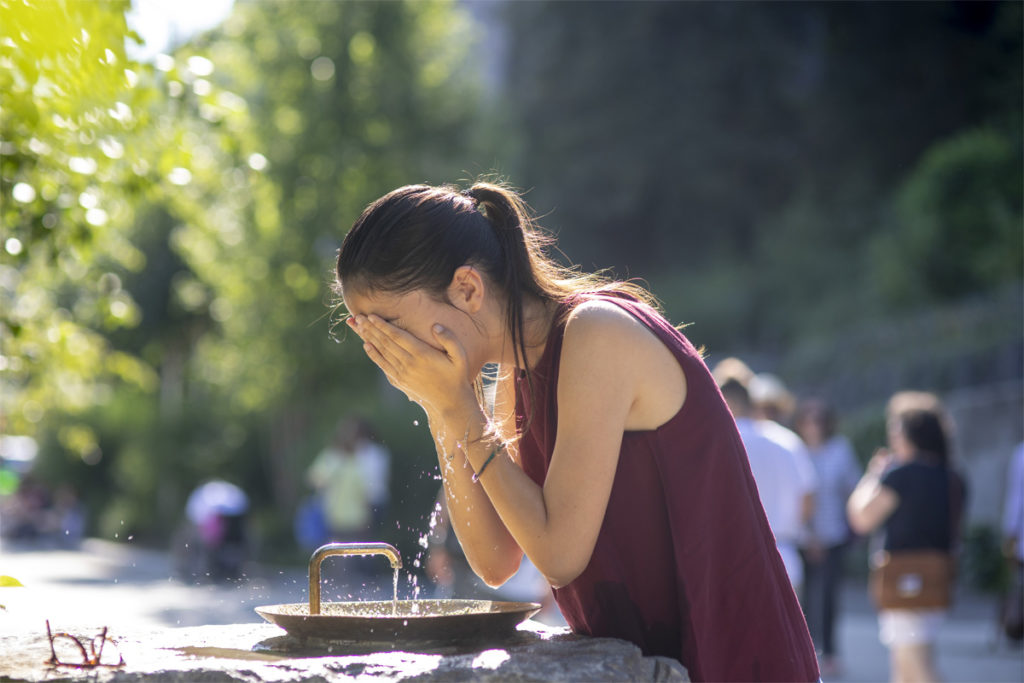 OPEN
From 6 a.m. to midnight
Free access
+33 (0)5 62 42 2008
(Standard rate number)

The Sanctuary of Lourdes ensures that the water of Lourdes is accessible to all those who wish to take it. The water is completely free and cannot be sold.
If you would like to receive some water, the Sanctuary of Lourdes invites you to approach the pilgrimage organisation closest to you.