25th February, the ninth apparition. Three hundred people were present. Bernadette later said, "She told me to go and drink at the spring and wash myself there. I found only a little muddy water. On the fourth try I was able to drink. She also made me eat some of the herbs that were near the spring, then the vision disappeared, and I left." To the assembled crowd who asked her, "Do you realise that doing these things makes us think that you are mad?" She replied, "It's for sinners."
It is the water of this same spring which has led to extraordinary healings, and which continues to gush forth from the base of the Grotto.
Millions of people come to Lourdes to drink at the spring and wash there. Pilgrims can perform the same gestures that Bernadette did: Go and drink at the spring and wash yourself there!
This gesture can be done alone, in a group, with friends or family. It can be performed in the springs located after the Grotto in the fountain garden (18 fountains representing the 18 apparitions), or at the Baths, accompanied by a hospitalier who will lead and accompany you through the gesture.
Pilgrims who come to Lourdes perform 3 gestures that mark their pilgrimage: Touching the Rock, going to drink at the spring and washing there, and lighting a candle which continues the pilgrims' prayers and recalls the Risen Christ in our midst.
The water of Lourdes healed Bernadette
A "visible protection from Heaven", Father Peyramale witnessed this "visible protection from Heaven" of which Bernadette was a beneficiary.
He spoke of it in a long letter to Canon Fourcade. Bernadette had been affected for several days by "an inflammation of the chest which was all the more serious since it was a relapse". On Sunday, 27th April, the young boarder "was very ill, giving the Sisters cause for grave concern mixed with regret; they blamed themselves for letting her go to the Grotto where they thought she had contracted the illness."
On Monday her condition worsened. Several doctors were called to her bedside. The seriousness of her condition prompted Father Pomian to administer extreme unction to her. Father Peyramale explained: "She coughed frequently, her breathing was very difficult; for communion, she was only given a small piece" and "to make it easier for Bernadette to take communion, she was given a few drops of water from the Grotto". The effect was instantaneous: "Immediately after receiving the holy viaticum, Bernadette felt cured. She felt relief (to use her own words) as if a mountain had been lifted from her chest. All distressing symptoms disappeared; and yesterday morning it was she who received the house doctor, M. Balencia, in the salon. The doctor was stunned." Father Peyramale, who witnessed this sudden and unexpected healing for himself, immediately wanted to inform Canon Fourcade, the bishop's secretary, so that he could share it with Bishop Laurence.
Book 'Marie-Dominique Peyramale, The Curé of Lourdes' by Yves Chiron, is on sale at the Sanctuary of Lourdes book shop.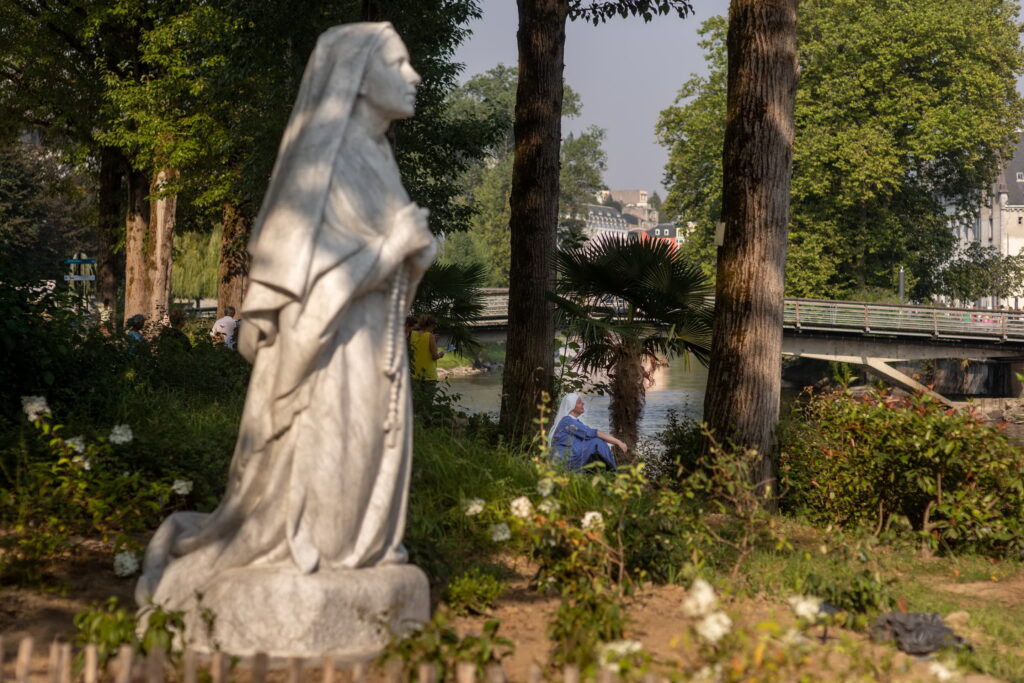 John 19:33-34


But when they came to Jesus and saw that he was already dead, they did not break his legs. Instead, one of the soldiers pierced his side with a spear, and at once blood and water came out.
Because Jesus shed His blood to accomplish a marvellous redemption for us, we can receive forgiveness and be cleansed of our sins.
Psalm 41:2


As a deer longs
for flowing streams,
so my soul longs
for you, O God