8th September 1877 death of Father Peyramale, the parish priest of Lourdes
In September, the Church celebrates three Marian feasts in one week: the birth of Mary (8th September), the name of Mary (12th September) and the sorrows of Mary (15th September). In prayer, the birth of Mary and her divine motherhood are related.
The Nativity of the Virgin Mary is one of the four main feasts around which Christian liturgical prayer in honour of the Mother of the Lord gradually took shape. During the first millennium, Christians celebrated the Nativity of Mary, her presentation in the Temple, the Annunciation and her Assumption into glory. Like many Marian feasts, the Nativity of Mary originates in the East, in Jerusalem specifically. From the 5th century, a mass was celebrated there in honour of the Nativity of Mary in the church of Saint Anne, the place where she is assumed to have been born. This festival spread very widely in the West, so much so that it is now the patronal feast of many shrines and churches. Today, the faithful celebrate the fulfilment of the prophecy of Micah, which proclaimed, "the time when she who is in labour has brought forth (Book of Micah 5:3).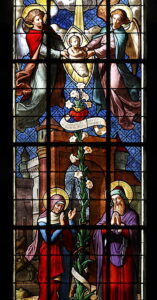 8th September 1877 death of Father Peyramale, the parish priest of Lourdes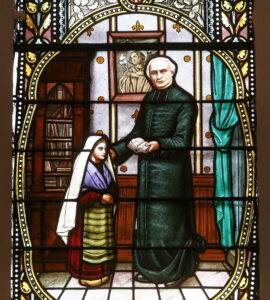 Marie-Dominique Peyramale, parish priest of Lourdes from 8th December 1854 to 8th September 1877, is a little-known yet essential figure in the great history of Lourdes.
Father Peyramale never left his native Pyrenees and his life would have been very different if he had not been appointed to Lourdes in December 1854. Four years later, in 1858, one of his young parishioners, Bernadette Soubirous, told him that the Virgin had appeared to her. At first sceptical, then convinced, the forty-something abbot would become the young seer's representative. He defended her against the commissioner, the prosecutor, the prefect. He protected her from journalists and onlookers. He witnessed the first miracles, organised the first pilgrimages, and built the first sanctuary.
Nothing could have prepared Father Peyramale for this role of great witness. But this ebullient, honest, active, priest, imbued with charity, embodies the conversion to the supernatural to which Lourdes calls us.
Yves Chiron, French historian, specialist in the history of the Church in contemporary times, has written a beautiful book on Fr. Peyramale: Marie-Dominique PEYRAMALE, Le curé de Lourdes.
Available at the Sanctuary of Our Lady of Lourdes bookshop