"Let us set out spiritually, drawn by the humility of Him who became man to come and meet each one of us" (Pope Francis)
The Sanctuary will be illuminated until the Epiphany
From 8th December, the Sanctuary will be illuminated from 6:30 p.m. to 10:00 p.m. Come and immerse yourself in a luminous and musical atmosphere during this time of waiting for the Saviour.
PROGRAMME for the celebrations of the Nativity
Saturday 24th December
9:00 p.m.: Christmas Eve Mass at the Basilica of Saint Pius X, followed by a procession to the Grotto of Massabielle.
Sunday, 25th December
Mass of Christmas
8:00 a.m. – Basilica of the Immaculate Conception, in french
09:30 a.m. Basilica of the Immaculate Conception, in english
9:00 a.m. – Hospitalet (extraordinary form)
10:00 a.m. – Grotto, in french
11:15 a.m. – Rosary Basilica
4:30 p.m. – Rosary Basilica, in french
5:30 p.m.: Vespers at the Rosary Basilica
9:00 p.m.: Marian torchlight procession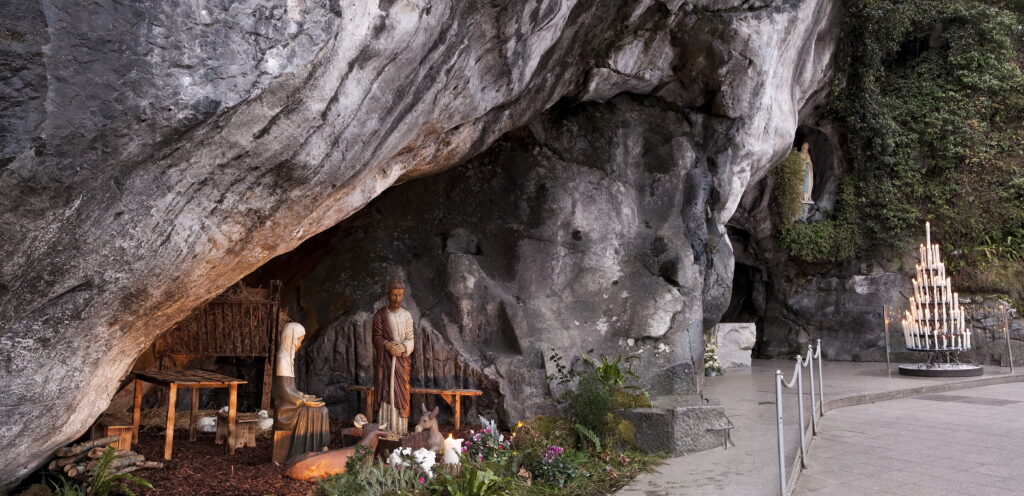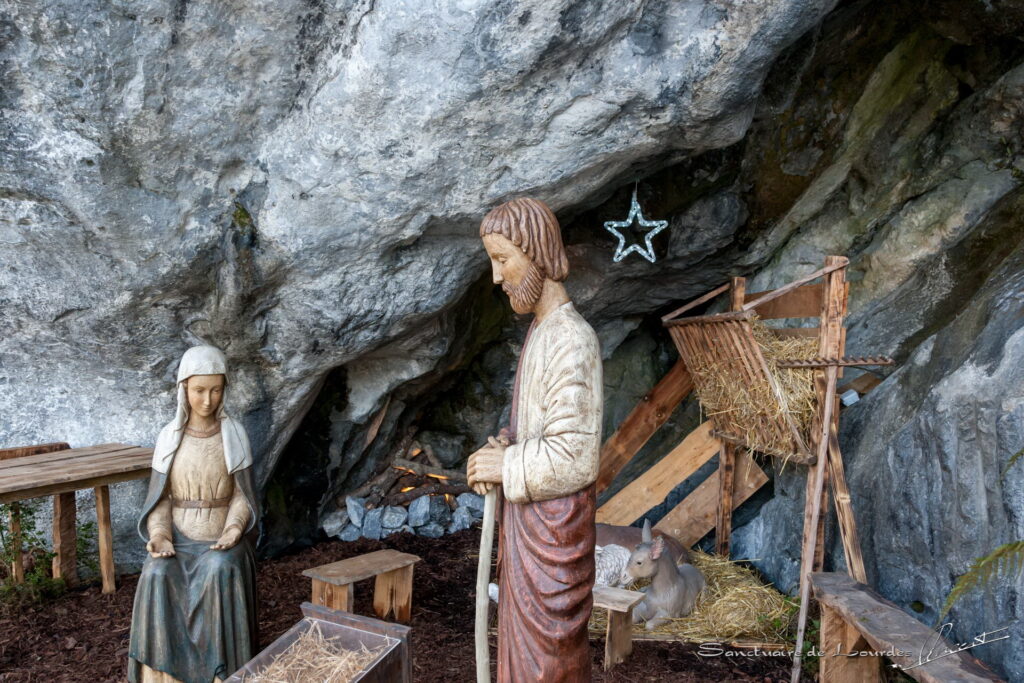 You can also follow a route to admire the different nativity scenes in the Sanctuary. You can admire the decorations made for the Christmas holidays and meditate in front of the nativity scenes which will be at the two entrances; Saint Michael's Gate and Saint Joseph's Gate, and end with the nativity scene installed at the entrance to the Grotto of Massabielle.
Come and experience the birth of Jesus in Lourdes, in this place loved by God, this place where the Virgin Mary revealed her name to Bernadette – "I am the Immaculate Conception" (25th March 1858) – the day when the Church celebrates the Annunciation.
Get ready for the great feast of Christmas
Advent represents the period when we prepare for the coming of the Saviour during the 4 weeks before Christmas. From Sunday, 27th November, the "chapelains" at the Sanctuary of Our Lady of Lourdes will be offering you a sound calendar with a series of 29 podcasts.
How does it work?
Every day, you will find a scenic image of the Sanctuary, the reading and a meditation for the day given by one of the priests of the Sanctuary (only in French).
A podcast is digital audio content that can be listened to anywhere, like a radio broadcast. Each podcast lasts an average of 2 minutes and is available on several platforms (Apple podcast, Deezer, Google podcast, Podcast addict and Spotify). The podcasts link will be in the profile bio.
An Advent calendar designed to awaken a sense wonder in our hearts and eyes, to invite us to prayer and to help joy grow in our hearts, as we wait for the birth of the Child Jesus.